Zoning Ordinance
Article VI - Off-Street Parking, Loading and Unloading Requirements
Legal Notice: While every attempt has been made to be as accurate as possible, the material found on these pages represents an unofficial copy of the Dingman Township Zoning Ordinance. When in conflict, the original signed official documents kept in the Township Building shall prevail. Persons relying on this version shall do so at their own risk.
ARTICLE VI
OFF-STREET PARKING, LOADING AND
UNLOADING REQUIREMENTS
Section 601 - General regulations
601.1 Off-Street parking, loading and unloading facilities shall be provided to lessen congestion in the streets. The facilities required herein shall be available throughout the hours of operation of the particular business or use for which such facilities are provided. As used herein, the term "parking space" includes either covered garage space or uncovered parking lot space located off the public right-of-way.
601.2 Each parking space shall consist of not less than an average of two hundred seventy (270) square feet of usable area for each motor vehicle, including interior driveways, driveways connecting the garage, or parking space, with a street or alley. Garages, carports, and driveways not in the public right-of-way may be considered parking spaces. The net parking space per vehicle shall be not less than nine (9) feet wide and twenty (20) feet long.
601.3 Parking spaces may be located on a lot other than that containing the principal use with the approval of the Planning Commission provided a written agreement, approved by the municipal solicitor and accepted by the Board of Supervisors, shall be filed with the application for a zoning certificate.
601.4 Lighting: Any lighting used to illuminate any off-street parking shall be so arranged as to reflect the light away from adjoining premises and public right-of-way.
601.5 Parking shall not be permitted on a public right-of-way.
Section 602 - Parking Facilities Required
Any structure or building hereafter erected, converted, or enlarged for any of the following uses, or any open area hereafter used for commercial purposes, shall be provided with not less than the minimum spaces, as set forth below, which spaces shall be readily accessible to the uses served thereby. Fractional numbers of parking spaces shall be increased to the next whole number. The Township Board of Supervisors may modify these requirements, however, based on competent surveys, data from the Institute of Transportation Engineers and similar sources to accommodate special needs, accommodate shared parking arrangements or otherwise ensure adequate parking for a particular use.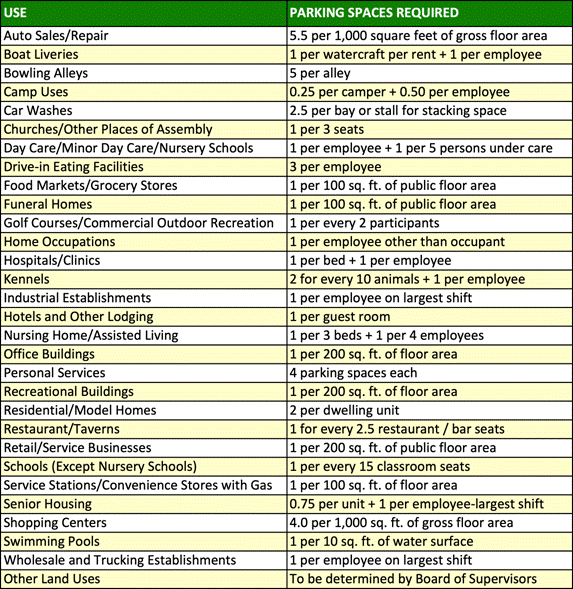 Section 603 - Loading and Unloading Space
603.1 In addition to the off-street parking space required above, any building erected, converted or enlarged in any district for commercial, office building, manufacturing, wholesale, hospital or similar uses, shall provide adequate off-street areas for loading and unloading of vehicles. This provision may be waived in the case of uses determined by the Township Board of Supervisors to not involve significant large truck deliveries.
603.2 The minimum size loading space, where required, shall be sixty (60) feet in depth, twelve (12) feet in width, with an overhead clearance of fourteen (14) feet. In no case where a building is erected, converted or enlarged for commercial, manufacturing, or business purposes shall the public rights-of- way be used for loading or unloading of materials.
Section 604 - Access to Off-Street Parking and Loading Areas
604.1 Access to and from all off-street parking, loading and vehicle service areas along public rights-of-way shall consist of well defined separate or common entrances and exits and shall comply with the following provisions:
a. Access drives shall not open upon any public right-of-way line of any intersecting public street or highway where the sight distance in either direction would be less than three hundred (300) feet.
b. There shall be no more than one entrance and one exit to any business or parking area on any one highway. Each entrance and exit shall be clearly defined with curbing, fencing or vegetative screening so as to prevent access to the area from other than the defined entrance and exits. In no case shall one entrance and exit be located within eighty (80) feet of any other on the same property or adjoining property along the same public right-of-way. Non-conforming lots, however, shall be exempt from this requirement.
c. Any subdivision of property within a NC District shall provide no more than one common entrance and one common exit on any public right-of-way. Interior access drives shall be provided for movement of traffic to the public right-of-way.
Section 605 - Parking and Loading Area Setbacks
All non-residential parking areas and parallel circulation and service lanes shall be separated from the paving edge of a public thoroughfare or adjoining property lines by a planting strip at least twenty (20) feet in depth.