Help Stop the Spotted Lanternfly !
It's not just a good idea ---it's the law!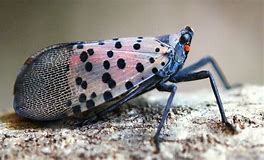 The Spotted Lanternfly is an invasive insect native to China and Southeast Asia. It was accidently introduced into Bucks County Pennsylvania and is spreading rapidly. It destroys fruit trees, hardwood trees, garden plants and vegetables, and has no known predators. It is estimated that if introduced throughout the Commonwealth, the economic damage to Pennsylvania alone will exceed 18 billion dollars.
The Spotted Lanternfly tends to spread by hitching a ride on cars or trucks (including their contents) that are driving through an infested area. The adults in particular are very adept to holding on to a vehicle when it is traveling at high speed.
How can you help prevent the spread of the Spotted Lanternfly.
1. Learn how to identify the Lanternfly in its various life stages.
2. Learn which counties are considered part of the Spotted Lanternfly Quarantine Zones.
3. Inspect your vehicle before leaving a quarantine zone.
4. Inspect your vehicle after arriving at your destination (or when taking a break outside of the quarantine zone.
5. Properly kill any Lanternflies found on your vehicle or its contents.
6. Properly destroy any Lanternfly egg masses you might find.
7. Report any sightings of Lanternflies or their egg masses that you find outside the Quarantine Zone.
8. Inspect any goods that may be shipped to you to ensure that there are no Lanternflies or egg masses on them.
IF YOU DRIVE A COMMERCIAL VEHICLE OR ONE USED IN BUSINESS INCLUDING NON-PROFITS AND CHARITIES AND WILL BE ENTERING THE LANTERNFLY QUARENTINE ZONE, YOU MUST FIRST RECEIVE A PERMIT AND KEEP AN INSPECTION LOG. FAILURE TO DO SO MAY SUBJECT YOU TO FINE OF $ 300 AND A CIVIL PENALTY OF UP TO $ 20,000.
It is also recommended that all residents take the free on-line training. The quarantine zone, as of this writing, starts just below Bushkill. Nearby places like Stroudsburg and Marshalls Creek lie within the quarantine zone.
Penn State and other major universities along with federal and state governments are researching controls to prevent the Spotted Lanternfly from destroying America. Your cooperation in preventing its spread will help buy time to develop the control.
PA Deptartment of Agriculture Quarantine & Permit FAQ page