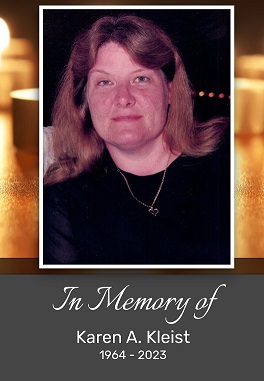 Karen A. Kleist, 58, of Dingman Township, PA passed away Tuesday, February 21, 2023 at Wilkes-Barre General Hospital, Wilkes-Barre, PA. She was the Secretary/Treasurer for Dingman Township, PA for 26 years. She was also involved with the inception of the 501C3 nonprofit TBD (Tick Borne Disease) Support Network in 2016 and remained a dedicated volunteer as Secretary/Treasurer.
The daughter of the late Richard and Elinor (Todter) Schultz, she was born September 12, 1964 in Forest Hills, NY. She was married to George Kleist on April 20, 1985.
Karen was an avid animal lover, active member of the community, and loving wife, mother, sister, and grandmother. She was always ready to step in wherever and whenever she was needed, forever putting the needs of her family and community first.
Having moved to Milford, PA at age 14 in 1979, Karen had a passion for equestrian before falling in love with her husband George and starting a family, whom she loved and supported unconditionally.
Karen is survived by her husband George; daughter Christina and her husband Josh Alspach; daughter Jeanine Kleist; sister Laura Schultz; and grandchildren Abigail and Noah.
A viewing will be held at Stroyan Funeral Home, 405 West Harford St., Milford, PA on Saturday, February 25, 2023 from 2 to 5 PM. Funeral services will be held at the funeral home on February 25, 2023 at 5 PM with Pastor Russ Weidel officiating.
Final interment will be held in Milford Cemetery, Dingman Township, PA at the convenience of the family.
Memorial donations may be made to Father John's Animal House, Lafayette, NJ (www.fatherjohns.org) or TBD Support Network, PO Box 953 Milford, PA 18337.
Arrangements by Stroyan Funeral Home, Milford, PA