The chill in the air did not deter the nearly 300 children who anxiously lined up, waiting for the 10th Annual Dingman Township Easter Egg Hunt to get underway! Held this year at the Ann Street Park in Milford, the Dingman Township Recreation Board's annual event provided holiday oriented fun for the area's kids from toddlers up to 10 years old.
Broken into groupings by age, the children raced to collect the eggs. Those finding the "special" eggs were rewarded with prizes. Although not every egg was special, all of the children were, and no one went home empty handed thanks to the generous donation of candy from the Westfall K-Mart.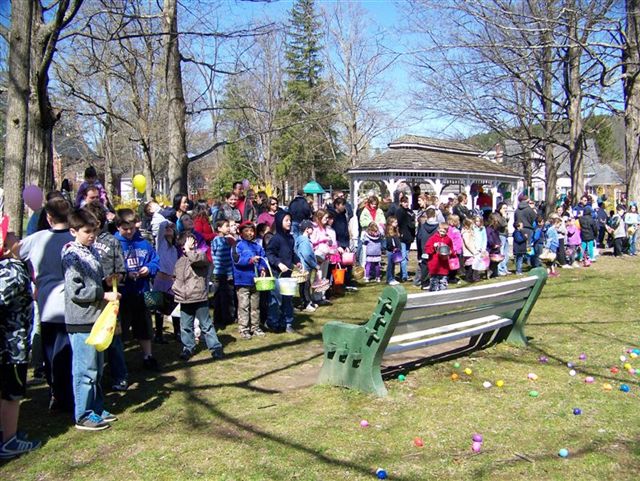 The 4 to 6 year olds lining up to start.
Photo by Laura Orben
Julie Forbes, Recreation Board secretary and coordinator of the event praised the behavior of the participants. She also thanked Milford Borough for once again allowing the the Dingman Township Recreation Board use the park. She announced that plans are already in the works for the 2013 Easter Egg Hunt. With the additional room that the soon to be opened Dingman Township Recreation Park will provide, the Recreation Board hopes to expand the event to include many other activities for the children.
Watch for next year's Easter Egg Hunt to be held at the New Dingman Township Recreation Park. The Park is located at 679 Log Tavern Road (across from the Fire Department) and is expected to have its grand opening this Summer. Visit the Latest News section of this website for further announcements involving the Park.